So, I'm clearly going with song titles for the titles of my blog posts. I thought this title was fitting for my post about how I used to worry that I don't look like a "real" runner. As I've mentioned before relating to my weak glutes, I don't really have much junk in my trunk but I have plenty of junk in my belly and my chest. Thanks to my 70 pound weight loss, I now have some extra skin I am waiting to shrink up. I also have about 15 more pounds to drop. I am not gazelle-like or light on my feet or anything else anyone uses to describe a "real" runner.
I am writing this post because, when I first decided to try out running, I looked at lots of running magazines and blogs. None of the people in those places looked like me. They were slim or muscular or not fat. Then, I found Swim Bike Mom (Meredith Atwood), a wonderful blogger, a wonderful author (Triathlon for the Every Woman) and an Ironman, who said that races aren't just for skinny people, they are for really brave people in stretchy fabric. I have to say, I found Meredith's book so inspiring. She did her first triathlon when she weighed 220 pounds. She just got out there and did it and she did not care what other people thought. She also finished. Then she went on to do more races and more races until she completed a full Ironman. Along the way, she lost some weight but she does not meet society's standard of thin by any means. I also read Slow, Fat Triathlete. One aspect of both books, I really liked was that both authors included a section on where to find apparel to fit the non-traditional athlete and the struggles they felt trying to find something that would work. I want to "pay it forward" and share some of my insights with other non-traditional runner girls.
Athletic clothing manufacturers don't make many items of running apparel for those of us who don't resemble real runners. That is why I am extremely picky about the brands I will wear (forget wearing the technical shirt provided by races). I primarily wear Nike, lululemon (yes, the founder is a douchebag) and Oiselle (but only certain items and I am even officially part of Oiselle's sponsored Flock but they still, largely, design for the traditionally shaped runner). I've had some problems with my Saucony clothing order so, I am reserving judgment until my fall items arrive, but so far, I have one pair of capris I really like. I am excited about my fall Saucony items, which should be arriving soon.
I am picky not because I am label-conscious or want to spend a ton of money on running clothes, it is because I know what works and what does not work for me. I may be a really brave person in stretchy fabric but some stretchy fabric looks better on me than others! As a friend of mine said on a recent run when we were discussing pacing, "If you look around you, and you are surrounded by the people in the really short shorts with the slits on the sides, you are running too fast and need to slow down." First, he was right – I've got no business running with those people and will soon be stopping short, gasping for air, and second, I have no business wearing shorts with slits! I firmly believe if I feel comfortable in what I have on, I will be have a better run. With that said, here are the things I have found that work for me (while I do receive some items for being part of the 26Strong program, I will only say I like something if I actually like it – so far I've really only tested Saucony's shoes):
1. Sports Bras – a busty girl's best friend 
Unfortunately, the cute sports bras are not made for the C cup and above runners. I happen to have this bra (Oiselle Strappy Bra) but I can only wear it for yoga and around the house:
 It is really cute. Oiselle makes several other cute bras but, alas, I cannot wear them. I tried the Strappy Bra out on the treadmill. It was not fun.
For a long time, before I got down to my goal weight on Weight Watchers, I wore these beauties by Moving Comfort. They are the "granny panties" of the running world but they worked like a charm:
Juno Bra
I have since graduated to these (VSX Pro Bra), which I completely love but they have been discontinued. I was totally dubious that Victoria's Secret could make a sports bra that really worked (just look at the model – does she look like she just ran 13 miles?) but they did. I bought up all the ones that were NWT on eBay! VS has some other styles that I think probably work equally as well but I bought all these on clearance and on eBay so I went with it.
2. Bottoms – cute fat bottoms 
I am a huge lover of running skirts. These Run: Pacesetter running skirts by lululemon are by far my favorite. Why do I love them so much? First, there are the ruffles on the butt that help to hide my fat bottom and the front of the skirt covers the weird c-section thing (fellow c-section moms, I know y'all know what I am talking about). Second, the waistband is wide, like yoga pants, so it does not pinch up like narrow elastic and make a muffin top. Third, they have boy shorts underneath them with silicone on the legs to make the shorts stay down, preventing the dreaded "chub rub". I have 6 of these skirts in various colors (including the one below because I am a total sucker for polka dots).
Compression shorts are not, generally speaking, this fat bottomed girl's best friend but I do own a few pairs because they are just so darn convenient but always in black or another dark color. They don't ride up, they are supportive and they are about the only thing that go on under my Sparkle Skirts for my dress up races (more on running in costume on another post). These Flyte Shorts from Oiselle work well – they are seamless, and while compression, in general, causes some muffin top (think about what happens when your Spanx stop), these cause less of a muffin top.
Traditional running shorts often don't work for me, either. I have found this fat bottomed girl should avoid running shorts made by the shoe companies like Brooks or New Balance. They are poofy and too short and have weird slits in the sides. I love Nike Tempo shorts for putting on when I get out of the pool to wear home but I cannot run in them. They bunch all up between the legs when I run and it is not pretty. These Roga shorts from Oiselle are the answer to my running short prayers. I cannot say enough wonderful things about them. First, they have a yoga waistband so, no muffin top, the fabric is wicking but stretchy so they fit like a glove and they have the cutest colors on the inside lining. If I would not bankrupt us, I would buy a pair in every color, I love them that much. I currently own navy and black but I am plotting to get the gray and these super cute blue ones.
Compression capris are, unlike their short counterparts, a fat bottomed girl's best friend. Black capri leggings will transform your life. In my opinion, Nike makes the world's best running capris and tights. They are not ultra-compression so they don't make you into a sausage but they hold their shape over time. These are my all time favorite capris by Nike.
3. Tops – the bane of my existence 
This is where it all falls apart for me. I have to find something that fits over my chest but is not so baggy on the bottom, it looks too big. I also have a belly and some flabby skin from my weight loss so, spandex sucked onto that part of my body, is not a pretty sight. I have yet to find a running top I absolutely love so much I don't cringe when someone wants to take my picture in it. The absolute worst thing for big chested, extremely short waisted women is an extra long running shirt. What is it with all the shirts that come down to completely cover your butt? They just end up bunching up on me. Seriously, if I ever win the lottery, I am going to start a women's apparel company that makes clothes for curvy girls like me. The shirts won't make a muffin top or a spare tire and they won't be 9 miles long! With that said, these kind of work for me:
lululemon Run Swiftly – I love the fabric on these – not too clingy but I have to sort of bunch it up because it is so long, they must make it for Jolly Green Giant length.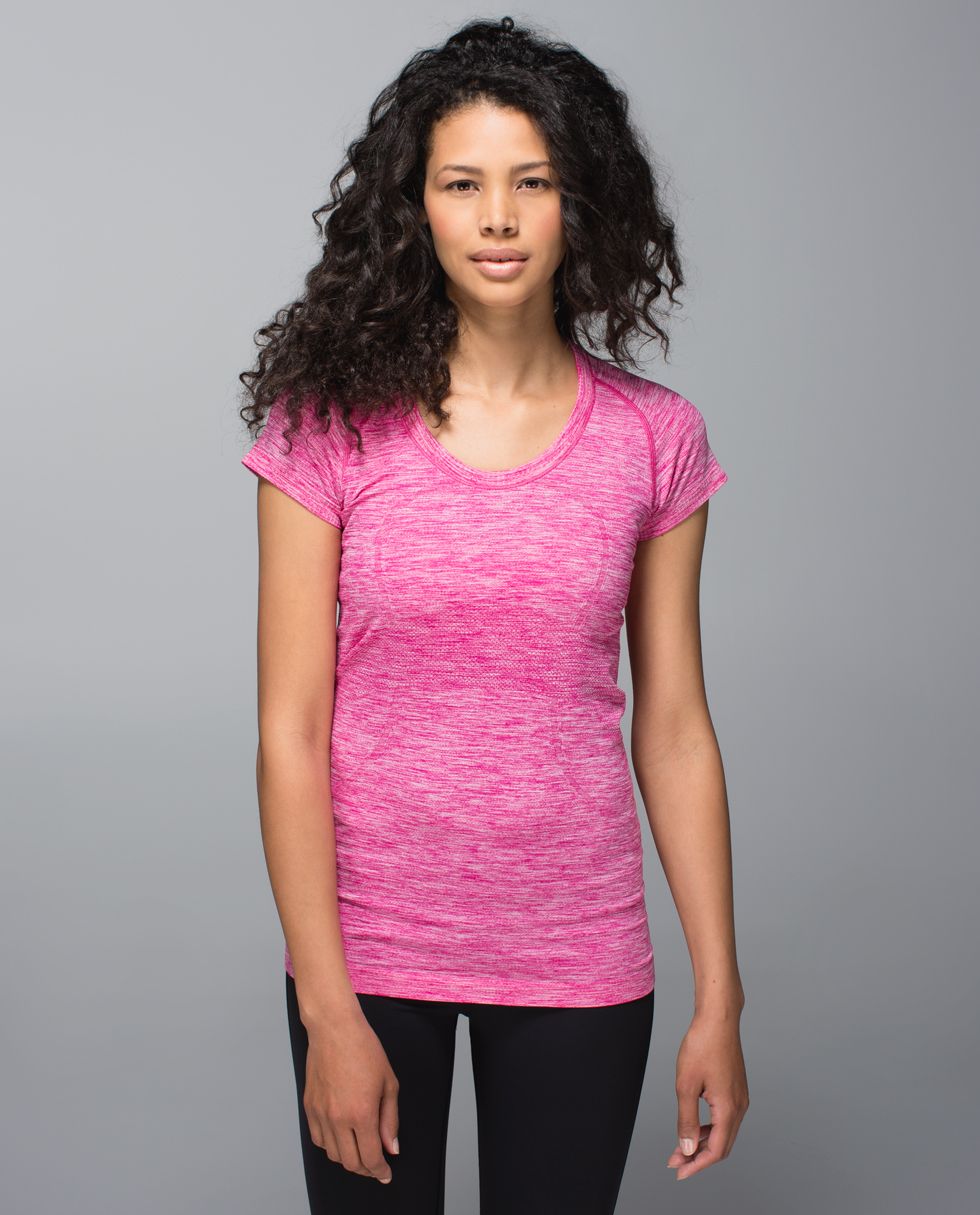 Nike Women's Legend V-Neck Shirt – not too clingy and it comes in 54 colors online. Not the best for wicking and it holds onto odors, sometimes.
Raw Threads Street V's. First, you have to like Disney to love these shirts because they really only come in Disney-themed logos. Totally, not a problem for me but not everyone's taste. Second, they are made out of a bamboo fiber combined with cotton. Completely comfortable but not the best wicking fabric in the world. When I am done with a run, the shirt is soaked. However, I really like the fit and they have a band on the bottom which prevents the shirt from riding down onto my butt. Plus, I really, really, really like Disney. I first discovered this shirt at the Fit for a Princess Expo at the Disney Princess Half Marathon.  My latest addition to my Raw Threads collection (above) to inspire me and Carly as we train for the Rebel Challenge at Disneyland in January (she has a matching one). I also have two of their hoodies, which I love.
I know it can be intimidating to show up to a running group in stretchy clothing if you have never worn it before but I do have to say that all the technical fabric is worth it and you should just let your flag fly! When I showed up at Fleet Feet and not everyone looked like they would be the next cover model for Runner's World and they were wearing workout clothes (and looking pretty darn cute in them), I abandoned my baggy cotton t-shirts and shorts and embraced "real" running clothes on my non-traditional runner's body. Honestly, I don't think anyone notices as much as we think they do and the performance wear will make you more comfortable. I am learning to not worry so much about it. I am a work in progress. For my inspiration, I look back at these pictures:
I was actually much heavier than the picture on the left when I took up Weight Watchers and running but, at some point, I would not allow anyone to take my picture so this is the last "before" picture I have. I was three month's pregnant with Colin in this picture and I went on to gain another 30 pounds during pregnancy. There is a period of about two years of my life where I have no photos of me. The picture on the right, is me in April of this year after I PR'd the half marathon at the RNR Raleigh, 70 pounds lighter.
Would I like to lose more weight? Yes. I am going to? Maybe. Maybe not. Right now, I am training for this marathon and fueling my body with the healthy food it needs to get me down the road. Some days, that requires more food than Weight Watchers says I should eat. I do know that I am stronger and more fit than I have ever been in my life. Maybe, fitness is not defined by a number on a scale. In the meantime, I'll keep hoarding running clothes and letting all the other fat bottomed girls know what works the best for this one!